Alcohol is so 2021- for some!
The pandemic was tough on the liver! Reports from the Institute of Social Welfare (ISWR) indicate that 52% of Americans surveyed are looking to reduce their alcohol consumption. Online searches, including the word 'mocktail,' are up 42% over the last year, and 'non-alcoholic' searches are up 82% globally.
The interest in mocktails isn't derived from big companies pushing particular products, instead it's the result of good old-fashioned, consumer-driven behavior, and at the very least is a trend that should be watched.
There's no need for bartenders to fear the inevitable 'Dry January' and similar New Year's resolutions. As with most big changes in socio economics, the new wave of zero-proof followers are being deemed 'Sober Curious.' Abstaining completely from alcohol isn't the idea, it's more of reducing consumption and avoiding full benders for a more sober experience. Most consumers looking for zero-proof drinks aren't completely cutting out alcohol, just limiting amounts throughout the night.
It's up to bars and restaurants to decide if they want to offer mocktails and cater to the sober curious crowd. Offering Virgin Mary's and Watermelon Nojitos at a premium is a fantastic way to keep customers sipping more interesting beverages than sodas or lemonade and comes with an elevated price tag to boot. Even Gordon Ramsay's Hell's Kitchen at Caesar's Palace in Las Vegas provides a mocktail menu, and I figure if Vegas has a zero-proof market, then you might too.
Mocktail Menu
Orange Mango Crush
Using a blender, blend orange juice and sorbet until combined. Add mango and soda water, top with orange mixture.
Watermelon Nojito
Muddle watermelon chunks with lime and sugar, stir in mint leaves, vanilla extract, and top with ginger ale.
Brazilian Lemonade
Wash and quarter limes, add them to blender with sugar, water, and sweetened condensed milk. Pulse until limes are chopped, then pour mix through a strainer to remove peel and pulp.
Seltzer Fever
Demand remains strong for this low alcohol, low calorie canned delight
Not everyone wants to go zero-proof. The past few years have shown us a big swing toward spiked seltzers. As Americans continue to pursue healthier lifestyles, the ISWR reports that the market for alternatives to beer and cocktails have experienced more than 30% growth in the last year. ISWR also reports an expected 31% increase in sales of no/low alcoholic beverages by 2024.
This trend shows no signs of slowing down.  Seltzer in the category's impressive expansion is also due to seltzer brands going all-in on their social media presence, working with influencers to promote their products. In fact, Bank of America research reports six times more conversations about hard seltzers on Instagram in January of 2020 compared to January of 2019.
The appeal of seltzers stems from the idea of a low-sugar, low-calorie, low-alcohol alternative. Things are just getting started as low alcohol alternatives have evolved to more than just carbonated, flavored water. Some brands have taken the initiative to use organic flavoring from real fruit, appealing to more health-conscious dietary trends. Others have taken a different approach, and offer low-alcohol, canned versions of popular cocktails like mojitos, margaritas, pina coladas, and even wine!
There's more to the industry than White Claws and Trulys; here are some fan favorites to add to your repertoire:
Spindrift SPIKED's Organic Seltzers
Crook & Markers's Organic Cocktails
Vista Bay Hard Seltzers
Cool Cat's Wine Spritzers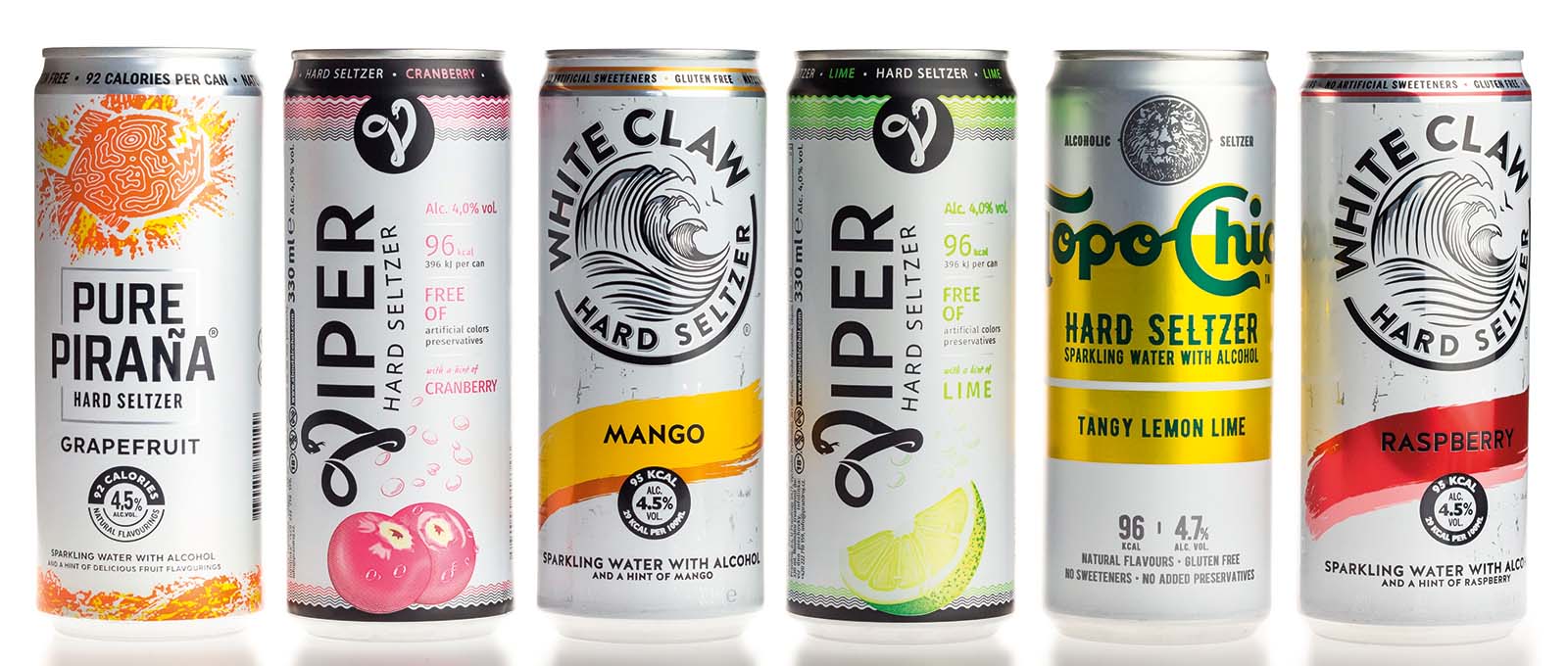 Read more articles