A Hot, New Revenue Stream
Delivery food apps are all the rage and are growing in popularity.  Recent data indicates that about 60% of American consumers order takeout food or delivery at least once a week. 31% of American consumers use third-party food delivery services at least twice a week.
If only there was a way to make your kitchen profitable while it's slow during the workday… Enter 'Ghost Kitchens' created by Virtual Dining Concepts (VDC)- a company that will outfit your existing kitchen with all it needs to send out speedy deliveries under the name of their partnered brands. It works like this:
Jenny works from home and doesn't want to spend her entire lunch break in traffic to go pick up a tasty burger. She hops on DoorDash and starts scrolling. A new place piques her interest, MrBeast Burger, it's affordable with a low wait time. She's never seen that location in town, but she's willing to give it a try because their food looks good.
After placing her burger and fries order online, the order immediately shows up in the POS system over at Spins Bowling, just like any other order made through the center. There's only a few simple ingredients organized together, so the line cook is done in minutes, bags the order and sets it on the counter.
Jenny's phone flashes notifying her that her DoorDasher just picked up her order from the counter, and in moments, she's received a burger and fries from her new favorite delivery place. She has no idea this was courtesy of Spins Bowling just down the street.
Jenny is satisfied, Spin's Bowling is happy because they received more value out of their unused kitchen space, while Virtual Dining Concepts took care of the back-end marketing and delivery systems. Once the crowd at Spin's Bowling picks back up in the evening, they can turn off deliveries for MrBeast Burger with the click of a button and focus on their in-house customers.
Bill Diamond, Spins Bowling: "After a quick presentation I realized this made absolute sense, and we made the decision to roll this out to our entire portfolio as quickly as possible," Diamond said. "It's a great add-on to our existing operations since we already have staff and existing infrastructure that frankly has just not been 100% utilized, especially during COVID," he said. "So partnering with virtual brands allows us to make better use of existing resources."
It's no secret that food delivery has proliferated over the last few years, creating a new business segment that includes concepts without any brick-and-mortar presence. VDC does the legwork for you. Experts help you choose the right brands for your existing kitchen, and their culinary team trains your staff with easy to make menus. Within 30 days you're ready to turn your delivery app on and realize the profits!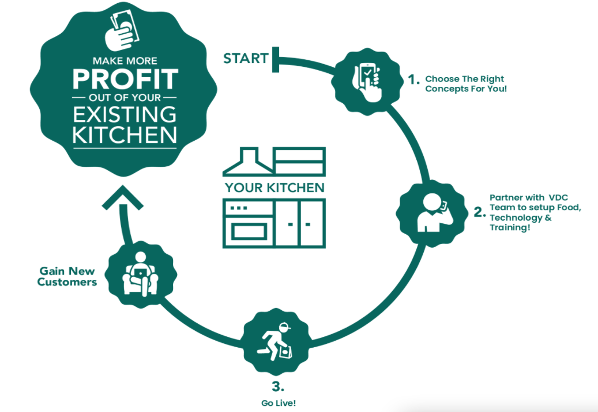 Partnered Celebrity Brands
●      MrBeast Burger
●      Mariah Carey's Cookies
●      Guy Fieri's Flavortown Kitchen
●      Pauly D's Italian Subs
●      Barstool Bites
●      NASCAR Refuel
●      Buddy V's Cake Slice
Note from the author: "In my first experience with ghost kitchens, I had no idea I was dealing with one. UberEats had a fried chicken sandwich place nearby that always had very short delivery times, and incredible food. It was killing me that I couldn't find the place on a map! One day they provided an option for pickup, which is when I found out it was a group of food trucks serving under the names of about 12 restaurants. That's fine with me- the food was quick and delicious!"
Read more articles